Trisul 20 Chlorpyriphos Pest Control Chemical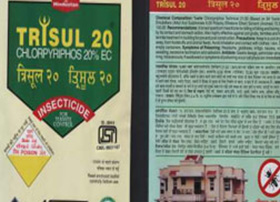 We are engaged in trading and supplying a vast array of pest control products. Our elaborate range of pest control service products include, Termite Control, Rat-Mice Control, General Pest Control, Cockroach Control and Bed Bugs-Ticks Control.
Our organization offers most innovative pest control products and services. We are completely dedicated in conducting a detailed systematic inspection of any pest presence and can install a proper and uniform solution to
it. Our professionals have in depth knowledge in Pest identification with professional pest control products and their adequate supplies with some recommended measures. We are leading provider of pest control Directory. We offer to our customer's database and directory which is well maintained by our professionals for all business types. They are generally in use for the agricultural sector and are available at market leading price. Kindly download the attached PDF herewith.
Brand Name
"Trisul-20ec"
Technical Name
Cholopyriphose 20% ec isi marked  (is:8944)
Approved By
Central Insecticides Board (CIB) Forest Research Institute, Dehradun 
(Govt.  Institutions) , Map (Army), CPWD,  NBCC, NTPC, IOCL, AWHO, GAIL
abovesiad chemical is produced by m/s hindustan pulverising mills (an iso 9001-14001 & ohsas 18001 certified company
we are authorised distributor and stockiest of this product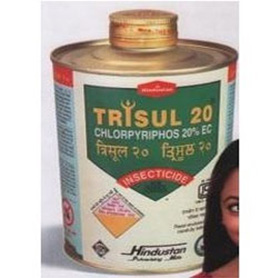 Chemical Composition: %w/w Chlorpyriphos Technical 21.50 (Based on 94 %w/w A. I.)
Emulsifiers (Alkyl Aryl Sulphonate 6.00 Polyoxy Ethelene Ether) Solvent (Aromex) 72.50 Total
100.00 Recommendations: A broad spectrum insecticide for killing of biting and boring insects by its contact and stomach action. Also highly effective against soil grubs, termites and for anti termite treatment in building for pre and post construction. Precautions: Keep in a cool dry place, away, from foodstuffs and animal feeds. Avoid inhalation and contact with clothes / skin. Destroy empty
Symptoms of Poisoning: Headache, giddiness, virtigo, nausea, vomiting, sweating, excessive lacrimation and salivation. Antidote: Gastric lavage, administer atropine 2 - 4 mg. intravenously. lf swallowed or symptoms of poisoning occur call physician immediately.